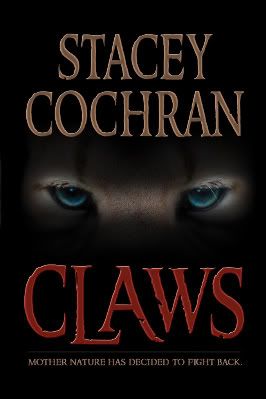 Thanks so much, Elisa, for the opportunity to guest blog at your place about my new novel
CLAWS
. Not only are you a tremendously talented writer, but you are tremendously generous and kind as well. Thank you.
So what is CLAWS?
CLAWS is a thriller set in Arizona with a wildlife biologist as the protagonist. Dr. Angie Rippard is drawn into a police investigation when two teens are found dead early one morning on a golf course. She suspects they were killed by a large mountain lion.
If you're a fan of romance, CLAWS has that too. There are a couple of steamy scenes in the early part of the novel, and ultimately a major part of the story involves Rippard's romantic triangle between her boyfriend and one of her top grad students. Put these folks in the middle of Arizona's two-million-acre Tonto National Forest and throw in an endangered mountain lion, and you've got a pretty good sense of what my novel is.
I'm currently in the midst of a 45-day blog tour. For those who've never heard of such a thing, a blog tour is essentially a planned online tour where a writer visits blogs (just as I'm doing right now) in some sort of official capacity to help promote his/her novel.
In contrast to an actual roadtrip book tour, I can confidently say this is less expensive and less time consuming. And I'm currently writing this up looking rather un-showered and sucking down some freshly-brewed coffee at my writing desk at home.
Now I have no idea whether this will result in a single book sold, but a big part of the marketing strategy for writers like myself and Elisa is to gain exposure any way you can. And hope that your books find a receptive audience.
So what is the topic for today's guest blog post? I would like to hear y'all discuss the most memorable marketing campaigns of your life.
Immediately, I'm thinking of the "I'd Like to Buy the World a Coke" campaign of the early 80s. That jingle has stayed with me for nearly three decades now. That's effective marketing. Also, the Budweiser Frogs from the mid-90s (whatever happened to those guys any ways?). In terms of book marketing, I've never seen anything like Harry Potter and Rowling's books have definitely changed the world.
I remember being in an airport and seeing a bookstore that had a Potter display with rip-off calendar dates counting down to the launch of one of the books. It occurred to me that there were thousands of similar displays all around the world, and everyone seemed united in their anticipation of the release of the book. Phenomenal.
So how you? What are a couple of the most memorable marketing campaigns from any business that comes to mind? What really sticks with you? Which ad campaigns worked?