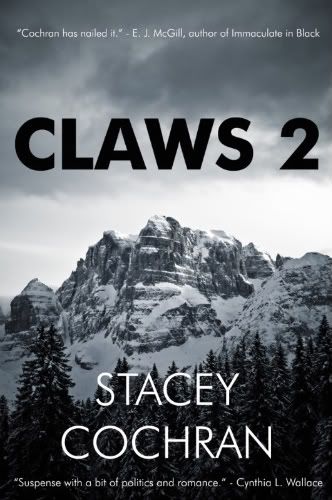 Stacey Cochran was one of the very first people I met when I moved to North Carolina four years ago. Little did I know back then how instrumental he would be in getting my career as a published novelist off the ground. Whether it was instructing me on the process of querying agents, or providing feedback on a draft of Faking It, or inviting me to be a guest on his show
The Artist's Craft
, Stacey is not only my friend, but a friend to aspiring authors everywhere. What's more, Stacey has seen the power of digital media when it comes to crafting, marketing, and distributing books, and has embraced technology to yield some impressive results.
Stacey Cochran was born in the Carolinas, where his family traces its roots to the mid 1800s. In 1998 he was selected as a finalist in the Dell Magazines undergraduate fiction competition, and he made his first professional short story sale to CutBank in 2001. In 2004, he was selected as a finalist in the St. Martin's Press/PWA Best First Private Eye Novel Contest. He lives in Raleigh, North Carolina with his wife Dr. Susan K. Miller-Cochran and their son Sam, and he teaches writing at North Carolina State University.
Please enjoy his post on the social life of a writer.
I never did do very well during high school prom season.
My junior year, I managed to muster up enough courage to ask the girl I had the biggest crush on and though she said "Yes" I generally freaked her out by having the worst possible hair week of my life (my older brother raked an electric razor over my head three days before prom).
My senior year, I asked four different girls who all said "No" for various reasons (lingering haircut anxieties, I think. They'd all seen what happened the previous year).
By my freshman year of college, my confidence was shaken, but I actually entertained asking a senior at my former high school to give the prom one last shot. She said "No" but (to make me feel better) it was because she'd already accepted a date.
Prom seemed like it could have been a lot of fun. I knew other people who had a good time.
I was not one of them. I was socially awkward. Never fit in.
To this day, I still feel the same way. I suppose it's why I chose the life of being a writer. Not necessarily a smart move on my part, it seems. Sixteen years in, I still feel as socially awkward as I did back in high school. Only now, it's with regard to my books… which are awkward, ill-conceived, poorly written, and (according to some reviewers) a personal waste of time on par with sitting at a series of stoplights when you're in a hurry to get somewhere.
So why do I do it?
Why have I written close to two million words of fiction, eleven novels in sixteen years, and received somewhere in the neighborhood of 3,000 rejection letters?
"Self-improvement" feels like a half-truth to me. But couple it with an "undying hope" that one day I'll get it right and hammer out a fine novel and maybe that's the sum total. I do feel like writing and its lessons of character development have made me a better communicator and a more compassionate human being.
Still, I'm just a socially awkward human being. I'm the guy people love to stick it to.
Sometimes this hurts me deeply to realize. Other times it washes right off my shoulder.
For the next four weeks or so, I will be on a Blog Tour to promote
my new thriller CLAWS 2.
As Elisa can tell you, this is no easy task. What I really need are positive reviews of the book on Amazon.com and goodreads.com. Also, other blogs to host me or at least spread the word about what you're reading.
If you'd like to help, drop me a line at
staceycochran.com
And please do leave a comment. What was your worst dating experience? How was your prom? How did you find Mr. or Ms. Right?